The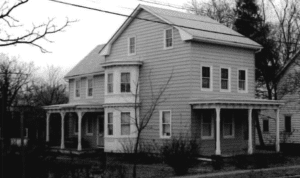 house shown in this sketch, was owned by Wallace Lippincott in 1859.  He was a wealthy businessman and landowner. This house is located at 3 South Bridgeboro Street and was constructed before 1860.  The style of the house is victorianized vernacular greek revival.  It's 2 1/2 stories in the rear and 3 stories in the front.  The third floor greek revival attic windows present in the 1876 sketch were covered with aluminum siding before this photo was taken in 1980 as part of the Cultural Resource Survey conducted before the reconstruction of Route 130 and the bridge over the Rancocas Creek.
The Lippincott family has deep roots in the Bridgeboro area as his ancestor, Freedom Lippincott was a large landowner in the area around the ferry crossing at the Rancocas Creek in the late 1600's. Wallace Lippincott was born on March 15, 1826 to Israel Lippincott and Maria Wallace. He attended the Westfield Friends School in Cinnaminson.  According to the 1860 U.S. Census, Wallace was a Lumber and Coal Merchant.  His personal estate was valued at $15,100 which would be about $455,000 today.  He was appointed Postmaster of the Bridgeboro Post Office on  April 22, 1857 and served until he was replaced by John Pierson in 1861.  In the early days of Cinnaminson Township, which included Bridgeboro, he served as Justice of the Peace.  From 1862 until 1869, Wallace Lippincott served as County Freeholder. He occupied high positions in several charitable institutions, was a member among the Freemasons and Grand Master in the order of Odd Fellows.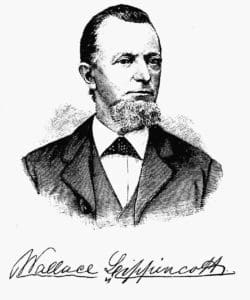 In 1861, he married Rebecca Martin.  It does not appear that Wallace and Rebecca had any children of their own.  However, in the 1880 U.S. Census, a 5 year old girl named Ida was listed as an adopted daughter.  Also living with them was William Caldwell, manager of Wallace's lumberyard, Lippincott and Rodgers.
According to the 1900 U.S. Census, Wallace and Rebecca were living at Lafayette Street in Riverside.  He was now a farmer. Their daughter Ida Harbach and her two children, Rebecca age 7 and Ada age 4 were living with them.  Ida was a dressmaker.  Wallace died October 22, 1904 and is buried at the Westfield Friends Cemetery in Cinnaminson.  After Wallace's death, Rebecca moved in with her daughter Ida Leconey in Beverly.  She died in 1946 and was buried in Monument Cemetery in Beverly.