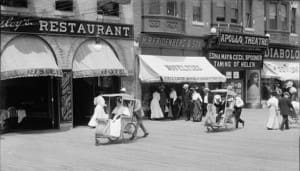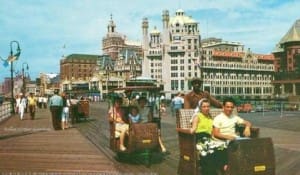 The Lenni-Lenape Indians were the first seasonal visitors to New Jersey's Absecon Island during the hot summer months – the island on which Atlantic City is located.  During the 1600 and 1700s it remained a quiet peaceful area with a few settlers building residence there. It was not until the 1800s when Atlantic City really came to be and it did not take long for the population in our area to realize the enjoyment of the very same island.  The city itself was incorporated in March of 1854 and in July of that same year the first public train, the Camden-Atlantic City Railroad, left Camden carrying passengers to the Atlantic City area.  The first official roadway from the mainland to the island was in 1860 – Atlantic City would never be the same again!  The population at that time was about 700 residents; by 1900 the population grew to 27,000!  Atlantic City grew rapidly and offered many sites and activities to its visitors such as beaches, its boardwalk, restaurants, amusements, and pageants – a perfect vacation destination away from the city!  The 1930s and 40s would see its heyday with many famous celebrities coming to town making Atlantic City world renowned.
In June of 1870, Atlantic City's first portion of its boardwalk opened.  Atlantic City's famed rolling chairs were first introduced at a convention in 1876 and originally designed as wheelchairs for the handicapped.  They were opened to the public and became boardwalk transportation for the carriage trade when able bodied people pretended to need to use them.  In 1887 local businessman William Hayday started renting them to the public.  The rolling chairs were all the rage and became the preferred way to get up and down the boards and the only vehicle allowed on the boardwalk.  It was fashionable to chicly dress for a ride in a rolling chair on a Sunday afternoon.  You were dignified and it was a sign of luxury.  The rolling chair continued to be a popular attraction throughout the decades.  There are still rolling chair companies in existence today.  Why not go back in time and take a ride on the AC boardwalk!
The featured image is Delran Historical Society's Vice President, Elaine McCabe's grandparents, Wilbur J.Freck and Frances Austin Freck taken on the boardwalk in Atlantic City circa 1910.