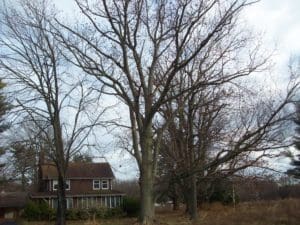 By: PJ Buzzi
The historical home that used to stand on the old Hidden Acres Farm last owned by the Stellwag family on Hartford Rd was build in the mid to late 1700's. Additions had been put onto the original part of the house several times during the 1800's and 1900's. A huge barn built in the mid 1800's also stood on the farm which had two stories with a basement. On the first floor of the barn were animal stalls, storage space and a place for the storage of a carriage (pulled by horses to get around). The second floor was all open for storage of crops with a very high ceiling.
Thirty Acres made up the farm which had many nice big trees that were 100+ years old with many other mature trees on the farm. Also there where several rare species trees for the Delran Area on the farm.
The Stellwag Family sold the farm to a developer in 2014 (know currently Ryan Homes) and unfortunately, in 2018 the historic house and historic barn were destroyed. Unfortunately,  all the 100+ year old trees (about 6) were lost when in 2019 the developer cut them down and cut down the many other nice mature trees. Then the soil was all dug up and moved around and know is currently paved over with a blacktop street.
It is very unfortunate that the developer did not want to save the six 100+ year old trees on the property or the historic house and historic barn which could have been integrated into the development, as has been done in other local developments in the area.

Fortunately, PJ Buzzi (Vice President of Delran Historical Society) and Deb Hammond (Former Board Member) where allowed to walk on the farm with the owners permission, several times to document what was on the property. The pictures below of the old Hidden Acres Farm and House were all taken by PJ Buzzi. The approximate age of the house, barn and trees are PJ Buzzi's expert opinions, since he has studied these topics in college and on his own. We hope you enjoyed reading the story behind the farm and enjoy the pictures. If you have any memories or photos from the farm please share them with our society. (we can scan original photos and give the original photos back to you).
The Pictures Below show the Historical House, Historical Barn and 100 + Year Old Trees before they were destroyed. Next set of pictures show the farm currently.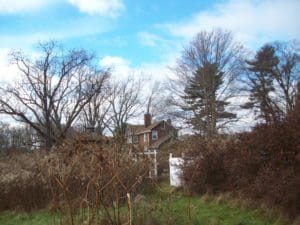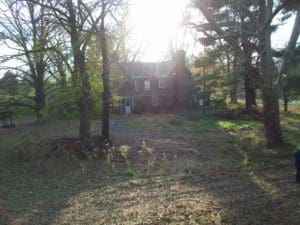 The Pictures below show what the farm looks like currently with all the top soil dug up and in piles, along with blacktop paved streets over the historic farm land.