Announcements:
Thank you to Mike Dicamillo for presenting "Quirky Jersey Tales and Surprising Stories about the Garden State".
Our next meeting will be Tuesday, June 20th. We hope that you can join us at 7:00 PM at the Delran municipal building.  Come and check out what we've been up to and where we're headed!!
To join the Delran Historical Society, click on the below link:
---
The Spring Hoagie Sale started April 1st!!!!
Please come to our monthly meeting to pick up tickets for a delicious Vid's hoagie and support your community!!! 
Your choice of American, Italian, Ham & Cheese or Three Cheese 6″ hoagies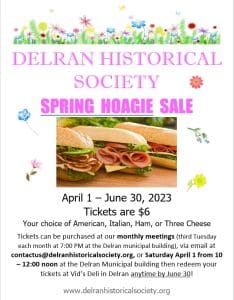 ---
For the 100th Anniversary of the Trinity Episcopal Church on Rt. 130 South, Miss Florence Fischer compiled the below booklet on history of the church from 1845 to 1945. Please click the photo to read the history. (Thank you to Donald Anderson's family for this great donation!)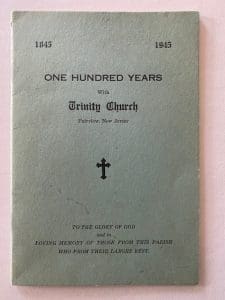 ---
Delran Street Signs – A Piece of Delran History Is Still Available!
Please visit our Fundraisers page for more details
---
Delran Fire Company #1 Building from 1916 to Today
---
Delran Fire Company #1 Ladies Auxiliary will be celebrating their 100th Anniversary in June.
The Ladies Auxiliary was started in June 1923 with the idea to help the firemen, plus to aid families affected by fire.
The Auxiliary raised money by selling items, such as tea bags (1 cent each), flowers, small rugs, chances, books, food items and merchandise club books. They helped the firemen with their turkey suppers in the 1940s and 1950's. They served banquets to a number of local organizations and rented the use of the old kitchen. More than 100 women were on the membership list. Of course, this was all before we had Fire Commissioners and a fire tax.
In the 1960's, many pizzas were made and sold at Bingo games every week. Square dances and flea markets were held also.
The Ladies bought the fire company, the fire boat (still in use today), a winch for the Dodge Brush truck in 1956, a new nozzle and first aid kit for the jeep, a ladder, new flooring for the old firehouse, plus many other items. They paid toward the "Building and Loan" each month.
The women also had uniforms and a banner made to participate in many parades years ago. The Auxiliary women enjoyed socializing with each other on trips to restaurants, covered dish suppers, parties, and craft nights.
They always supported each other in times of sickness, death, weddings and births. We strive to continue this legacy today.
Janice Leusner
Historian Committee Chairperson
Nancy J. Anderson; President, Life Member
Karen L. Anderson; Vice President, Life Member
Florence Anderson; Financial Secretary, Life Member
Sharon Stow; Secretary, Life Member
Nancy J. Anderson, Temp Treasurer
Kim Martino; Trustee, Life Member
Dottie Bennett; Trustee, Life Member
Janice Leusner, Life Member, Historian
Jackie Mitchell, Life Member
Bernadette Leusner Lee, Life Member
Many, many other dedicated woman!!!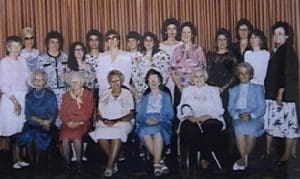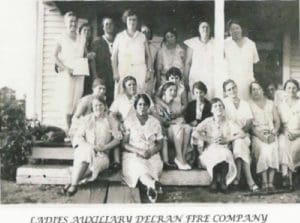 ---
Also Enjoy the Delran School Photos Below
2023 DELRAN HISTORICAL SOCIETY BOARD MEMBERS:
President – Mal Anderson
Vice President – Paul (PJ) Buzzi
Recording Secretary – Renee Brizzi
Treasurer – Nancy Anderson
Trustee (3) – Brad Anderson, Greg Boehmke, Kim Custer
Monthly Meetings:  
(Below, Under Recent News is Information and Dates for Our Monthly Meetings, Click on the Meeting Date to See More Information)
We hold monthly meetings on the third Tuesday of the month except July, August and December at the Delran Township Municipal Building located at 900 Chester Avenue.  Meetings start at 7:00 PM.  Frequently we invite speakers to address the membership.  Light refreshments are provided and we welcome any refreshment donations from the public for our meetings.