Delran Street Signs – A Piece of Delran History Still Available!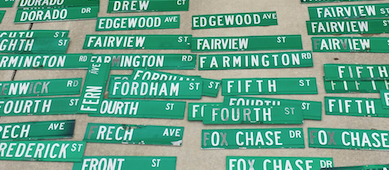 The Delran Historical Society Delran Street sign fundraiser held a couple of years ago was a great success and a way for so many to own a piece of Delran history!  So many were proud to own a street sign they grew up on or had great memories of.  We still have a few signs left and below is what is still available. 
Each sign is $15 or two for $25.
 If you would like to purchase any signs on this list, please contact Mal Anderson at 609-845-8389 and we'll make arrangements to pick up or ship your signs.
| | | | | |
| --- | --- | --- | --- | --- |
| Street Sign: | Qty In Stock: | | Street Sign: | Qty In Stock: |
| AMBERFIELD DRIVE | 4 | | MARSHA DRIVE | 4 |
| ASHLEY COURT | 1 | | MELROSE AVENUE | – |
| ASHLEY DRIVE | 4 | | MONTCLAIR DRIVE | – |
| AUTUMNWOOD ROAD | 3 | | MORAVIAN AVENUE | – |
| BELLE LANE | 1 | | NOREEN AVENUE | 1 |
| BORTON MILL COURT | 1 | | NORMAN AVENUE | – |
| BROWN STREET | – | | NORWICH AVENUE | 3 |
| BURGE STREET | 1 | | OAK AVENUE | 3 |
| CARRIAGE LANE | 2 | | ONEDA AVENUE | 1 |
| CENTER AVENUE | 1 | | PRINCETON DRIVE | – |
| CRANBERRY LANE | 1 | | RIDGEVIEW ROAD | 3 |
| CREEKDALE DRIVE | – | | ROLAND STREET | 1 |
| DIANE AVENUE | – | | ROSLYN DRIVE | 3 |
| DICKENS DRIVE | 1 | | SECOND STREET | 5 |
| ECHO AVENUE | 1 | | SHARROWVALE ROAD | – |
| ECHO COURT | 1 | | SHELLY DRIVE | 1 |
| EIGHTH STREET | 1 | | SOUTHWICK AVENUE | 1 |
| FAIRVIEW STREET | – | | SPRINGCRESS DRIVE | – |
| FARMINGTON ROAD | – | | STARKE LANE | 1 |
| FERN AVENUE | 2 | | STEVENS DRIVE | – |
| FERRY AVENUE | 1 | | STONEHAM DRIVE | – |
| FERRY STREET | 1 | | SUMMERHILL DRIVE | – |
| FIFTH STREET | 2 | | SURREY LANE | 1 |
| FOURTH STREET | 4 | | SWATHMORE DRIVE | 1 |
| FRONT STREET | 4 | | SYLVAN COURT | 1 |
| GRAND BOULEVARD | 3 | | TARA LANE | 3 |
| GREENWOOD AVENUE | 1 | | THIRD STREET | 6 |
| HAVERFORD COURT | 1 | | UNDERWOOD BOULEVARD | 2 |
| HOWARD STREET | 1 | | UNDERWOOD COURT | 1 |
| JANEWAY AVENUE | 1 | | UNION STREET | 1 |
| JUNIATA AVENUE | – | | WALNUT STREET | 1 |
| KAUDERER AVENUE | 2 | | WATER'S EDGE DRIVE | 1 |
| LAKE STREET | 2 | | WHITEMARSH WAY | – |
| LINDA AVENUE | 2 | | WILLOW WAY | 1 |
| LISA ROAD | 1 | | WINDMOOR ROAD | 1 |
| LITLE AVENUE | 3 | | WOODYFIELD LANE | – |
| MAPLE LANE | 1 | | CHURCH STREET | – |