Bridgeboro

Bridgeboro Hotel c. 1895
In the 1740s, a road was being built from Burlington to Coopers Ferry in Camden. The early town of Bridgeboro began to be established after a ferry operated by John Buzby was constructed to cross the Rancocas River in 1749 from lands in the north owned by Mr. Buzby and in the south by James Sherwin. During that time, a hotel with a tavern was also being built at the south terminus of the newly built ferry which would offer weary travelers a place of respite from their travels. As travelers were patronizing the newly established hotel, there were a few local residents who lived in close proximity that thought a supportive business would be beneficial to them. Thus was the beginning of the town of Bridgeboro.
Time was moving forward and a bridge was built. Historian George Decou in "The Historic Rancocas" gives the date of the first bridge, a covered one, as 1793 to replace the ferry. More and more people moved closer to the bridge as it was convenient for travel by stagecoach and river commerce. Others that built in the area established themselves by working locally in some early businesses. Bridgeboro was on a firm and growing footing.
When the first bridge was built, the area surrounding the southern terminus was called "Draw Bridge" and subsequently some folks called it "Toll Bridge". By the 1840s, the "Road to Coopers Ferry" was called Burlington Turnpike then Burlington Pike. Payments were required to traverse the early bridges for just about anything that could generate revenue for the owner. Tolls for foot traffic, a horse, horse and wagon, cattle, hogs or just about everything that was crossing had to be paid for before crossing.
The first bridge was succeeded by a new bridge in 1838 and by a later one in 1927. The town grew and as it did the name was later changed to Bridgeboro (formerly Bridgeborough) which is
a very early section of Delran Township. Early businesses included small shipbuilding in the 1700s and later in the 1800s, a Post Office, a blacksmith shop, a wheelwright shop, two hotels with taverns, a lumber yard, grocery stores, and a butcher shop. Along with these were two churches and a grammar school to serve the local residents. At the time the Township was named in 1880, Bridgeboro was a town of 400 inhabitants.

Delran's Many "Neighborhoods"
Delran has come a long way from its first town of Bridgeboro and it continues to expand today. Newly added developments, Chester Woods, Congressional, and Foxtail Creek, brings Delran's various
communities up to 23! Which Delran "neighborhood" do you live in?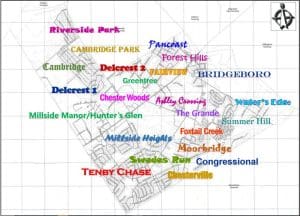 Delran Population
The 1880 U.S. Census counted the population of Delran as 1,760. Ten years later, Delran grew almost 30% with a population of 2,267. The turn of the century brought most towns in Burlington County growth but the numbers in Delran actually went down to only 890 residents. Where did 60% of Delran's residents go? To Riverside! Riverside was part of Delran until it was annexed by an act of the New Jersey Legislature in 1895. The largest growth happened in the 1950's through the 1980's when Delran's population went from 2,447 to 14,811 in three decades. In the year 2000, 15,536 people called Delran home sweet home, and as of present day 2023, the U.S. Census Bureau estimates the population at 17,930.
Tenby Chase
Preliminary plans for Tenby Chase, or "Tenby Town" as it was originally marketed, were completed in May of 1966. Headed by Scarborough Corporation, one of New Jersey's largest residential construction firms of the time, Tenby Chase was built upon 480 acres of Delran rich forests and open fields. Careful planning was carried out to conform to nature in the area – residential locations were chosen to retain wooded areas; older trees were preserved for continued growth. Streets were laid out in gentle curves versus grid-like patterns of the city. Even utility lines were laid underground to promote an uncluttered environment. Construction took place from about 1967 to 1979 beginning with the Tenby Chase apartment complex. Construction of single family homes began simultaneously between the areas near the Rt. 130 main entrance and back by the Moorestown border. A consistent architectural design theme throughout was Early American. Home exterior shapes, details, and color were reminiscent of Williamsburg and Boston colonial design and offered a different look from other South Jersey residential areas. The names of streets and home models were pulled from various British books and maps – Tenby is the name of a seaside town in South West Wales. Sample homes were located at the corner of Tenby Chase and North Drive; the cost of homes started at $29,900. Basic two story homes became top sellers around this time with the Oxford model the most popular. Approximately 1,100 homes were sold, second to Scarborough's largest development, Barclay Farms in Cherry Hill where 1,500 homes were built. The final section to be constructed was where most of the rancher homes are located at the top of Tenby Chase near Rt 130. Due to the economic crunch of the late 70s, these manufactured prefabricated homes were open for sale and sold last.
SummerHill