Early History of Delran Schools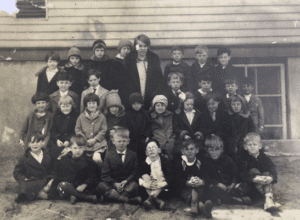 The old Chester Township was split in half by Act of the Senate and Assembly of New Jersey on March 15, 1860 – and the lands that were eventually to become Delran were , on that date , a part of the new Cinnaminson Township. The first Town Meeting was held at the West – Chester school house. This West – Chester school house was a new building at the time and was located in the portion of the new Cinnaminson Township that was later to become Delran. More specifically, this schoolhouse of 1860 was on Chester Avenue about 1/4 mile off the Burlington Turnpike (Route 130). The schoolhouse,incidentally, was described in early records as a $1,000 property with 67 scholars registered, average attendance was of 34, with one female teacher at $36.00 per month.
Education in the 1800 s was not tax – supported, except in a very nominal way, until about 1871 when the principle of free public education was at length recognized. Thus, the early "West – Chester" school of 1860 was supported largely by voluntary contributions and by donations from the parents of the children involved. In earlier years children attended the Westfield Friends School of 1798 (Cinnaminson) , which was financed by the Society of Friends.
When Delran Township was established in 1880, the new theory of public education had become well rooted. Four school districts included the one in Riverside, the old West – Chester district, and two others carrying the names Bridgeboro District No. 25 and Chesterville District No. 26. All four together operated on a total budget of approximately $2,000. Six teachers were employed at salaries ranging from $30 to $42 per month.
By 1907 two new schools were on the scene; one at Bridgeboro, replacing an earlier building, and a new building on the "Burlington Pike" (Route 130) at Fairview. The old stone West – Chester school was closed . Its students attended the new Fairview school, except for a few from Cambridge who were sent to Riverside at tuition of $10 per student. The old Chesterville School, not far from Bridgeboro, was also closed and its students attended the new Bridgeboro School.
Beginning in 1917 experiments were made in bus transportation and double sessions – students from Cambridge and Riverside Park traveling to the school in Bridgeboro which was done in shifts, local students in the morning and traveling students in the afternoon. This was not too satisfactory, and over the next few years a new school was built at Cambridge, the school at Fairview was closed, and the one at Bridgeboro was enlarged.
The above narrative was adopted from THE HISTORICAL BACKGROUND OF DELRAN TOWNSHIP By: Lloyd S. Griscom
See our links to specific school write-up